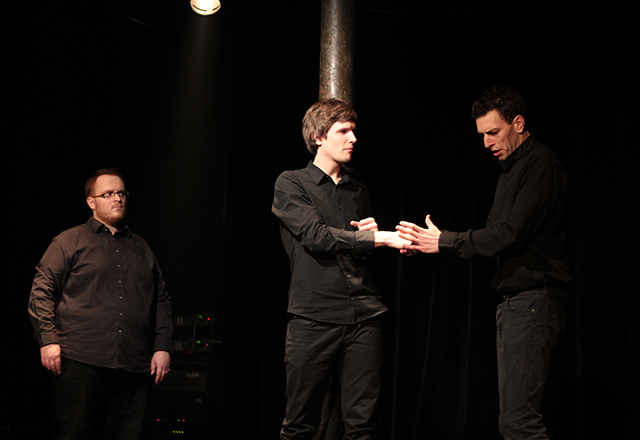 Jušu in Vidu se tokrat v posebni angleški izdaji Iglu Impro Podcasta pridruži Rob Wilson, improvizator, igralec in režiser iz Velike Britanije. Skupaj načnejo temo mednarodnega dogajanja na evropski improvizacijski sceni in strejo oreh, imenovan Ohana – združenje mladih evropskih improvizatorjev. Eden glavnih pobudnikov Ohane Gerald Weber pa se oglasi preko intervjuja.
In this special English edition of Iglu Impro Podcast Juš and Vid host Rob Wilson, an improviser, actor and director from Great Britain. Together they talk about the European improv scene and Ohana – the association of young European improvisers. Vid also interviews Gerald Weber, one of Ohana's founders.
Podcast: Download (Duration: 34:34 — 16.1MB)
IGLU ima tudi svojo spletko in na FB stran. / IGLU also has a website and a FB page.
Mreža Apparatus.si je tudi na Facebooku in jo lahko finančno podprete tudi osebno. Hvala. / You can support this podcast and all the others on apparatus.si via PayPal. Thank you.
–
Zapiski / Notes:
Impromptu Shakespeare
Lost & Found Improvised theatre
Ohana meaning
Impro liga: Grand Prix
Hvala / Thank you:
– Rob Wilson
– Gerald Weber
– Wizzair
–
Ostale epizode Iglu Impro Podcasta najdete tule. / The rest of Iglu Impro Podcast episodes can be found here.