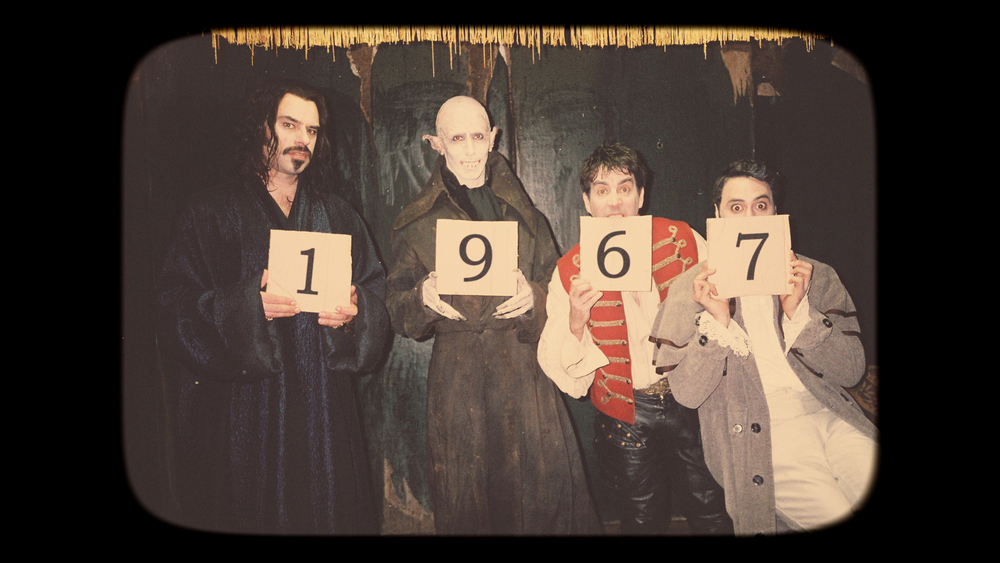 Če ste bili slučajno pod vtisom, da je saga Somrak posesala vse življenje iz žanra vampirskega filma, je zdaj tu dokaz, da ste se krvavo motili! Povsem navadni vampirji, ki se NE svetijo na soncu in imajo staromodno navado pitja krvi in štrikanja puloverjev z motivi sončnih zahodov, še vedno obstajajo, samo iskali ste jih na napačnem mestu!
Kot nam razkrije mokumentarna vampirijada Kaj počnemo v mraku (What We Do in the Shadows, Jermaine Clement & Taika Waititi, 2014), so se zgolj skrivali med orki, v senci neke druge novozelandske filmske produkcije. V novem podcastu poizkušamo ugotoviti tudi, kako zelo so nam podobni štirje cimri, stari nekje med 183 in 8000 let, ki žurajo cele noči, vstajajo ob šestih popoldan in ne marajo pomivati posode. Press play and find out!
p.s. Film si boste povsem legitimno lahko ogledali tudi pri nas in sicer v okviru festivala Kurja polt, ki bo v Slovenski kinoteki in Kinodvoru potekal od 16. – 19. aprrrrrrrila. Krvavo nujno!
Podcast: Download (Duration: 1:19:00 — 31.7MB)
–
Na FilmFlow se lahko tudi naročite preko iTunes in RSS. FilmFlow je tudi na Facebooku in Twitterju. Podprete nas lahko tudi osebno.
Kontaktirate nas lahko na filmflow.pms@gmail.com ali na osebnih twitter računih – Ana, MajaP, Bojana, MajaW. Obiščite pa tudi našo spletko www.filmflow.si.
Zapiski:
O filmu in ustvarjalcih
Kaj počnemo v mraku na IMDb 
Two Cars, One Night (kratki film)
Gentlemen Broncos na IMDb
Fligth of the Conchords na IMDb
What We Do in the Shadows (Slant review)
Society of Men (The New Yorker review)
Taika Waititi TEDx predavanje (video)
Falling in love with Jermaine Clement and Taiki Waititi (video)
Intervju z ekipo What We Do in the Shadows (video)
Jemaine Clement and Taika Waititi on Second-Wave Vampire Movies, the Conchords Reunion, and 'What We Do in the Shadows' (Flavorwire)
O novozelandskem filmu
Cinema of New Zealand (Wikipedia)
10 Films That Will Make You Fall in Love with New Zealand (And That Aren't The Lord of the Rings)
The Most Epic Safety Video Ever Made (YT video)
New Zealand Wants a Hollywood Put on Its Map (The New York Times)
O vampirjih
On vampires (Wikipedia)
On vampires in movies (Wikipedia)
The 20 Best Modern Vampire Movies, 1979 to the Present (The Village Voice)
O mokumentarcih
On mockumentary
Top 5 Mockumentary Moments / What We Do in the Shadows (Filmspotting podcast)
Felix: V vrtincu slave (kratki film)
Dark Side of the Moon: Stanley Kubrick and the Fake Moon Landings (film)
The War Game (film)