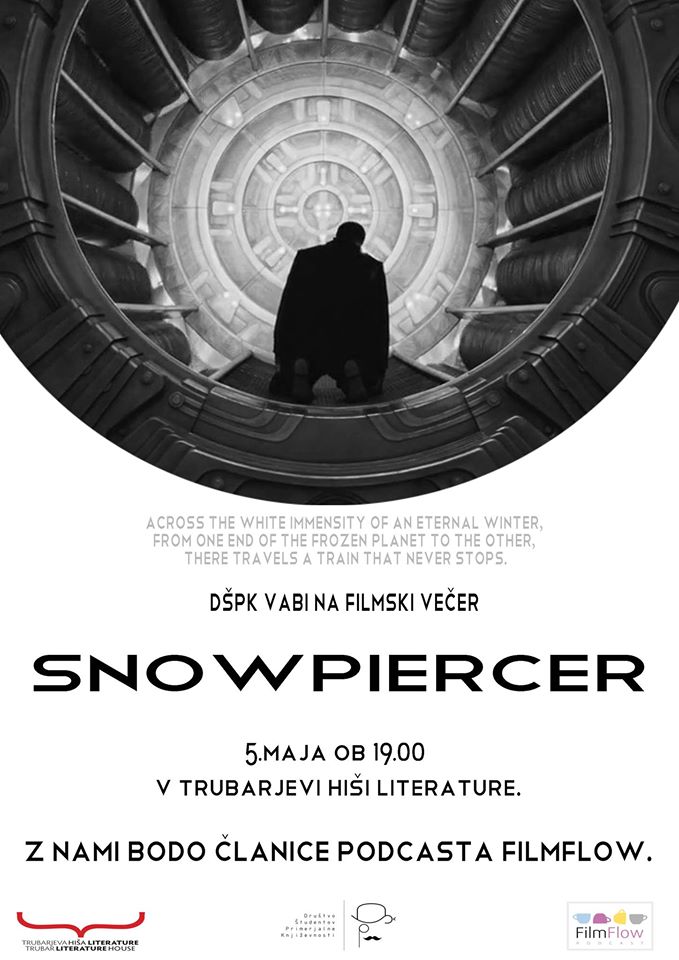 Across the white immensity of an eternal winter,
from one end of the frozen planet to the other,
there travels a train that never stops.
Znanstvenofantastični triler Snowpiercer (Boong Joon-ho, 2013) nam predstavi postapokaliptično podobo sveta, ki se sooča s posledicami podnebnih sprememb. Po besedah južno-korejskega režiserja gre za »raziskovanje človeške narave v skrajnih okoliščinah«. Film temelji na zgodbi Le Transperceneige francoskega striparja Jacquesa Loba.
Film smo si ogledali v torek, 5. maja v Trubarjevi hiši literature (na filmskem večeru Društva študentov primerjalne književnosti). Po filmu je potekala živahna debata o filmskih distopijah, Tildi Swinton in severnih medvedih, ki smo jo ujeli tudi v naš mikrofon.
p.s. Pogovor je sneman v živo, kar pomeni, da je zvok na določenih mestih malo slabši.
Podcast: Download (Duration: 57:03 — 23.0MB)
–
Na FilmFlow se lahko tudi naročite preko iTunes in RSS. FilmFlow je tudi na Facebooku in Twitterju. Podprete nas lahko tudi osebno.
Kontaktirate nas lahko na filmflow.pms@gmail.com ali na osebnih twitter računih – Ana, MajaP, Bojana, MajaW. Obiščite pa tudi našo spletko www.filmflow.si.
Zapiski:
Snowpiercer na IMDb
Joon-ho Bong na IMDb
Book Review: Graphic Novel 'Snowpiercer Volume 1: The Escape' Sets The Stage With A Chilly Futuristic Vision (IndieWire)
Book Review: Graphic Novel 'Snowpiercer Volume 2: The Explorers' Takes The Story To Darker Corners
Snowpiercer International Special Animation (YouTube video)
Snowpiercer (Review by Keith Phipps // The Dissolve)
Snowpiercer (Review by Scott Foundas // Variety)
Understanding Art House | Snowpiercer (The Nerdwriter // YouTube video)
Smash the Engine (Essay by Peter Frase // Jacobin)
We Talked To Snowpiercer's Production Designer About Building A World Inside A Train (Interview // The Creators Project)
The Topics Dystopian Films Won't Touch (The Atlantic)
Why are dystopian films on the rise again? (Jstor)
We're All Going To Die: The Rise of Dystopia in Film (COS)
The Complete List: Everything You Will Find in a Dystopian Movie (Vanity Fair)
List of dystopian films (Wikipedia)