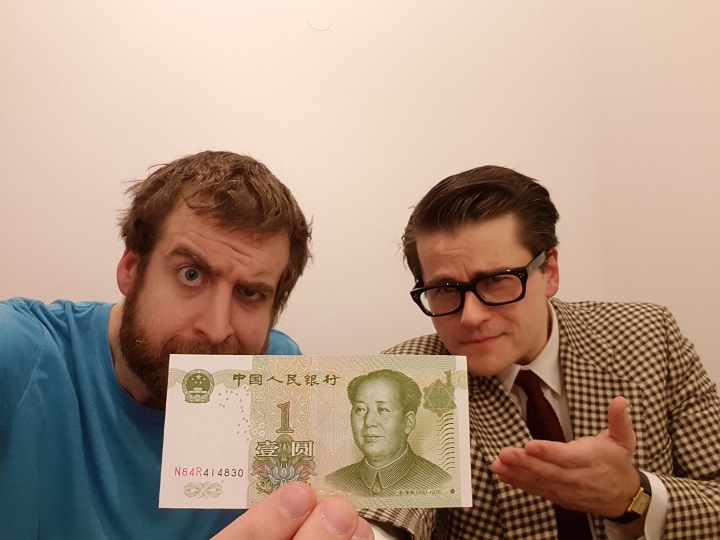 Jure in Anže z zamudo bereta pisma in odigrata drugi del drame.
Podcast: Download (Duration: 29:48 — 14.6MB)
Apparatus najdete na Twitterju ter Facebooku. Oddajo lahko podprete tudi osebno.
Zapiski:
THE DUKE OF SALZBURG
AND A RATHER PECULIAR,
SPECTACULARLY DAFT
AND FRIGHTFULLY
BOORISH COMMONER
&
THE GHASTLY REVELATION
(A dramatic sketch)
By
Jure Godler
DRAMATIS PERSONAE:
THE DUKE OF SALZBURG
A COMMONER
SETTING:
The Park in front of The Duke's Manor House. Sunshine. The Duke is wearing an oversized basketball outfit. The Commoner is practising moves with his ball.
C: Let's play ball.
D: Don't let's play ball.
C: Why not? You're wearing basketball shorts, aren't you?
D: (distressed) Yes I am! I have never worn shorts in my life! This is insane!
C: Correct me if I'm wrong but you are also wearing a reversible tank top, are you not?
D: (more distressed) Yes, I bloody well am! What in the world is going on? I look like a polyurethane sack of potatoes! Something is definitely wrong here! I am not feeling myself…
C: Furthermore, you are wearing a pair of fluorescent green trainers, hallelujah!
D: Yes. This must be a dream… oh God, I feel so common! Wake me up! Wake me up!!!
C: Hey, Duke… chill. Let's play.
D: No! I refuse to play! I demand to know how I got into this ridiculous costume and then some!
C: Here, catch…
The Duke fails to catch the ball.
D: Why is it I get the distinct feeling you're trying to exert some sort of influence on me?
C: You do?
D: Yes, indeed. I got the sudden urge to photograph my food and do a make-up tutorial at the same time. What kind of sorcery is this?
C: I have a confession to make.
D: Oh?
C: Yes.
D: Well let's hear it.
C: I am… how can I say this… I am not of this world.
D: How do you mean?
C: I am what you could call… an influencer.
D: An influencer?
C: Yes.
D: You must have gone mad.
C: Oh, no… it's true.
D: Is that a species?
C: You could say that.
D: Well… where do you live then?
C: We live online.
D: Online? You mean, you're digital as it were?
C: Indeed we are.
D: An influencer of what over whom?
C: Of will over time and space.
D: A sort of detached Dominion?
C: Mhm.
D: Who's the ruler of your Dominion?
C: His name… is Ian Mascarpone Sparrow!
D: Good God! My arch nemesis! I knew something ominous was brewing. I knew it emotionally, spiritually and deeply emphatically that the time of peace was coming to an end if peace was truly ever here. The evil so inherent in our times has just ripened. This madness needs to end once and for all… Once more unto the breach, dear friends, once more, or close…
C: Oh, that's Shakespeare, come on…
D: Sorry…
C: I hope I didn't shock you.
D: No, not at all. I knew you were a strange man the moment I laid my eyes on you. I knew then that you were much too peculiar to be just… common.
C: Thank you.
D: Take me to your king. Now!
C: Are you sure? His powers of influence are immense.
D: And I have big cock! Let's go!
C: Not again…
D: Wouldn't you like to know what it looks like? In detail?
C: No, thank you, I'll pass.
D: A classic design at first glance, Grecian in origin…
C: I'll pass.
D: How it protrudes from the stem towards the blue, free skies of the Commonwealth ever so slightly bent to the left like The Leaning Tower of Pisa and therefore offering a whole new dimension of delight to the female race and an equally devastating blow when dealing with fellow men. Supported by two buoys of freedom it forms indeed a Holy Trinity, the rod, which is the Father, the left testicle, The Son and the right testicle the Holy Spirit respectively, so go on please, baby… INFLUENCE THAT!
C: (coughs in disbelief)
D: Let's go!
TO BE CONTINUED?