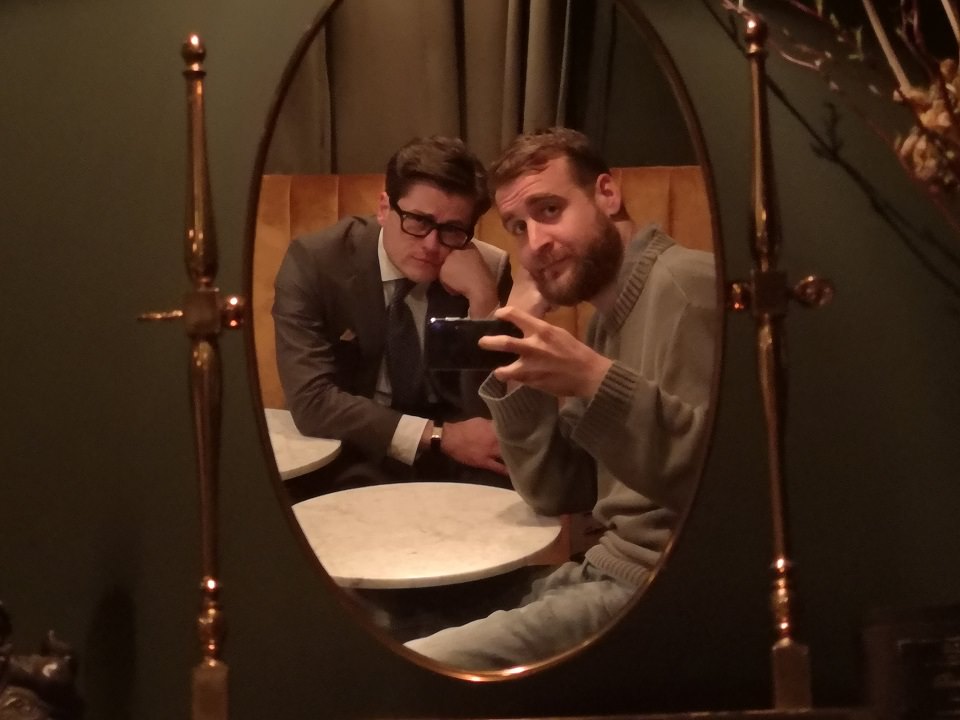 Jure in Anže odigrata zadnji del trilogije dramske igre. Prej pa: Jure je bil v kultu in ima modrico.
Podcast: Download (Duration: 37:58 — 18.3MB)
Apparatus najdete na Twitterju ter Facebooku. Oddajo lahko podprete tudi osebno.
Zapiski:
Dramska igra
THE DUKE OF SALZBURG
AND A RATHER PECULIAR,
SPECTACULARLY DAFT
AND FRIGHTFULLY
BOORISH COMMONER
&
THE CONFRONTATION
(A dramatic sketch)
By
Jure Godler
DRAMATIS PERSONAE:
THE DUKE OF SALZBURG
A COMMONER
IAN MASCARPONE SPARROW
SETTING:
Ian Mascarpone Sparrow's residence on a mountaintop. The Duke is tied to a chair, gagged, gagging.
IMS: So, you brought him to me.
C: Yes. Wasn't even hard.
IMS: Good boy, I knew that I could count on you.
C: What do you intend to do with him?
IMS: Hmmm… I don't know. Yet.
C: Are you going to influence him?
IMS: I just might.
Ian Mascarpone Sparrow moves closer to The Duke.
IMS: So, the great Duke of Salzburg. I've heard so much about you and your … big … cock.
The Duke gagging.
IMS: You think very highly of yourself, do you not?
The Duke gagging.
IMS: Commoner, might I get a glass of water? My mouth is getting dry just by looking at this sad Duke.
C: Here you go, your spectacular influencership.
Ian Mascarpone Sparrow drinks.
IMS: My dear Duke… real men boast not about their massive cocks. Real men boast about their sweet rounded and hairy bottoms.
C: Oh, God…
IMS: Real men boast about their fragrant derrieres, shaved to a certain degree but in such a way as to permit patterns made of hair. Patterns of stars, patterns of hearts, patterns of smiling emojis. Patterns which surround the very hole of exhaust – but not that of smelly farts, oh no… that of delicious aromatic vapours which influence other people and make them vacate the premises. Is that not so, Commoner?
C: Yes.
IMS: You have such a behind, have you not?
C: Ummm… yes?
IMS: I'm glad. Show your behind to the Duke so he may better learn the mark of a true man. Remove your trousers.
C: What? No.
IMS: You dare defy me?
C: I'm not removing my pants, period.
IMS: You are on your period?
C: No, I am not removing my trousers, no way.
IMS: Look into my eyes… now! Absorb my rays of influence!
C: NOOOO!
The Duke frees himself and takes a sword.
D: AHA!
Ian Mascarpone Sparrow takes a sword. A sword fight ensues.
D: Leave my friend alone, you grotesque man!
IMS: This was a trick?
C: Yes… I tied The Duke very poorly.
D: And not only that… ha!
C: The water was poisoned!
IMS: Aaaaarhhhhhhhhhhh…
D: Goodbye, you monstrous entity!
IMS: Aaaarghhhhhh….
Ian Mascarpone Sparrow falls to the ground.
D: I am very glad you came to your senses, dear Commoner. You shall now become a Count. Count Thomas the First.
C: Thank you for accepting me into your royal presence, Duke.
D: Don't mention it. It is time you inhabited this world. Our physical world. And high time to end this online world of influencing. God, this sword fight made me thirsty.
The Duke drinks from Ian Mascarpone Sparrow's glass.
D: Ahh… much better.
C: I'm thirsty too.
D: Here.
The Commoner drinks too.
Gasps of surprise from both…
THE END