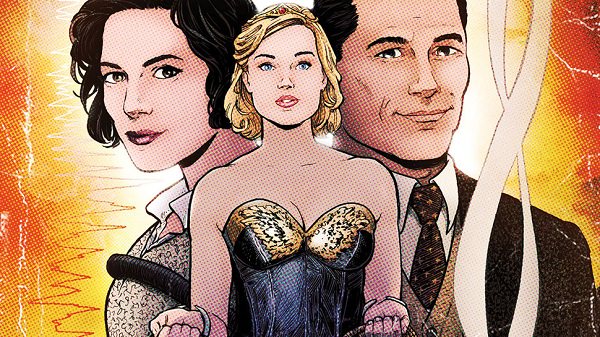 4 (čudežne) ženske
1 mikrofon
Preveč filmov
Premalo superjunakinj
V novo sezono FilmFlowa smo zakorakale z live podkastom, ki je potekal v okviru konvencije Na meji nevidnega. S pomočjo filma Profesor Marston in čudežni ženski (Professor Marston and the Wonder Women, Angela Robinson, 2017) smo se Tamara, Jasmina, Maja in Ana pogumno podale v nekoliko bolj nekonvencionalne, feministične in predvsem kinky ideale originalne Čudežne ženske, in se vprašale, kam in zakaj so se ti elementi v najnovejši filmski priredbi, pod katero se je podpisala Patty Jenkins izgubili.
p.s. posnetek z Na meji nevidnega ni ravno najboljše kvalitete. Se zgodi. Hvala za razumevanje.
Podcast: Download (Duration: 57:19 — 26.2MB)
–
Na FilmFlow se lahko tudi naročite preko iTunes in RSS. FilmFlow je tudi na Facebooku in Twitterju. Podprete nas lahko tudi osebno.
Kontaktirate nas lahko na filmflow.pms@gmail.com ali na osebnih twitter računih – Ana, MajaP, MajaW. Obiščite pa tudi našo spletko www.filmflow.si.
ZAPISKI:
Profesor Marston in čudežni ženski na IMDb
Angela Robinson na IMDb
Wonder Woman na IMDb
Patty Jenkins na IMDb
Čudežna ženska (Ekran)
Angela Robinson on the frank eroticism of her Wonder Woman movie (The Verge)
The Man Behind Wonder Woman Was Inspired By Both Suffragists And Centerfolds (NPR)
Wonder Woman: the feminist (Guardian)
Ropes, Chains, and Fursuits: The Kinkiest Moments in Golden Age »Wonder Woman« Comics (Comics Alliance)
Wonder Woman Was Created by a Feminist Bondage Fetishist Who Wanted a Matriarchal Utopia (Vice)
Wonder Woman: The Super Secret & Kinky Origin of a Feminist Icon (The Geek Whisperer)
Tim Hanley: Wonder Woman Unbound
Jill Lepore: The Secret History of Wonder Woman