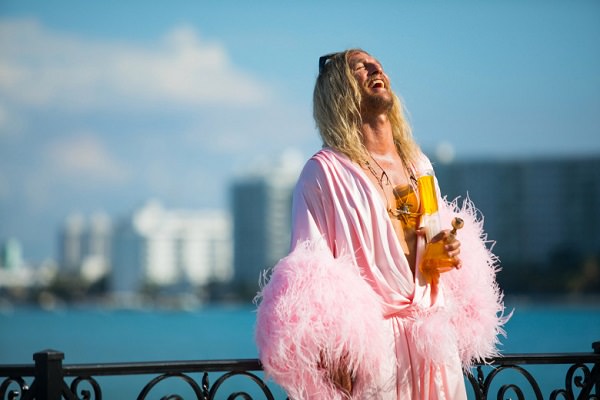 »I wanted to make a film that feels like it was guided by weed smoke.« (Harmony Korine)
Kralj plaže aka The Beach Bum je najnovejša umetnina – čisti zadetek od filma – pod katero se podpisuje čudni deček ameriškega neodvinega filma Harmony Korine. Halucinatorna pripoved o anarhističnem junaku na permanentnih počitnicah pod oblakom gostega opojnega dima skriva zanimiv razmislek o umetnosti življenja in možni alternativi kapitalističnemu sistemu.
O sončni Floridi, neskončnih počitnicah in filmih, ki jih želimo videti to poletje, smo v 103. epizodi FilmFlowa sanjale Bojana Bregar, Ajda Ana Zupančič, Maja Peharc in Ana Šturm.
p.s.
FilmFlow se letos na počitnice odpravlja v juniju in juliju, z novo oddajo posvečeno filmu Bilo je nekoč v Hollywoodu (Quentin Tarantino, 2019) pa se vrnemo avgusta.
Podcast: Download (Duration: 59:38 — 27.4MB)
–
Na FilmFlow se lahko tudi naročite preko iTunes in RSS. FilmFlow je tudi na Facebooku in Twitterju. Podprete nas lahko tudi osebno.Kontaktirate nas lahko na filmflow.pms@gmail.com ali na osebnih twitter računih – Ana, MajaP, MajaW. Obiščite pa tudi našo spletko www.filmflow.si.
ZAPISKI:
The Beach Bum na IMDb
Harmony Korine na IMDb
Harmony Korine, Glorious Weirdo (GQ)
A Portrait of the Artist as a Perpetually Stoned Beach Bum (The Atlantic)
Harmony Korine Breaks Down the 4 Most Harmony Korine Scenes in The Beach Bum (Vulture)
Interview: Harmony Korine (Film Comment)
Matthew McConaughey & Snoop Dogg on Getting High and Working Together (Jimmy Kimmel)
The complete saga of Harmony Korine on Letterman (and why he got banned for life)
Like A Rolling Stoner: Burnout Comedy 'The Beach Bum' Is A Balm (NPR)
The Beach Bum Is the Opposite of a Bummer (Time)