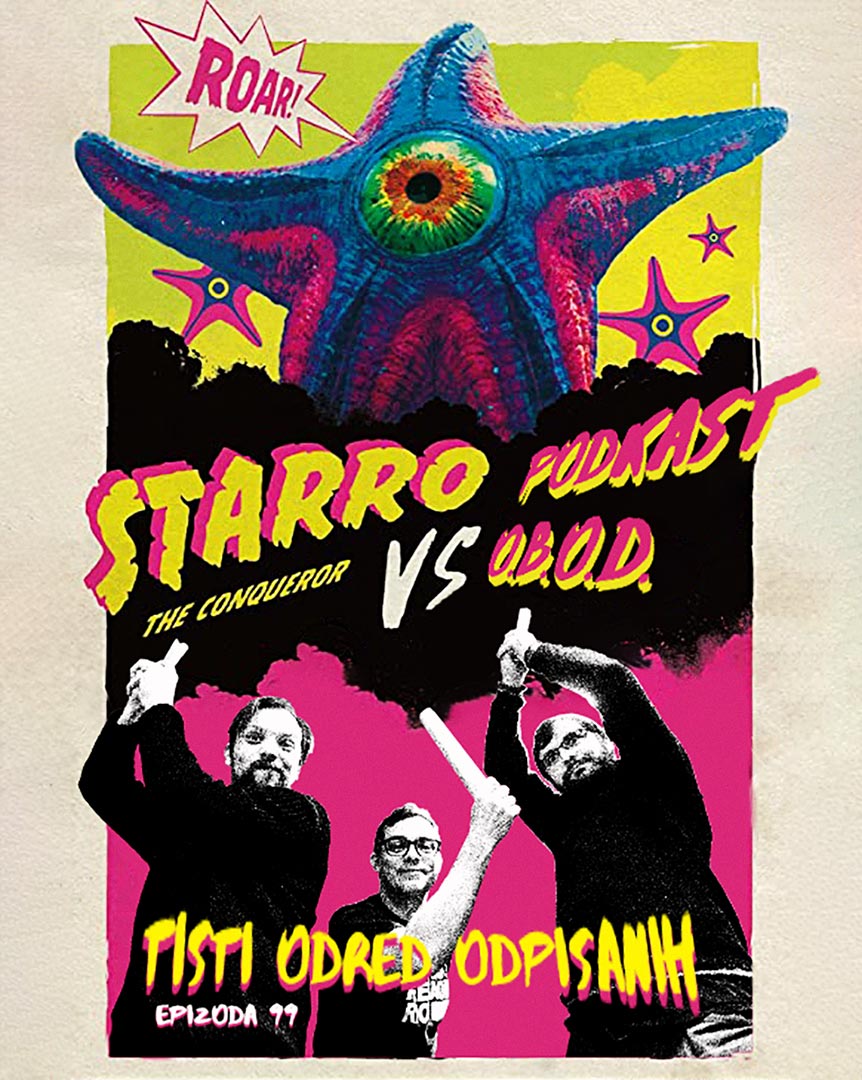 V devetindevetdeseti epizodi podkasta O.B.O.D., II. poletnem specijalcu, agenti Mito, Igor in Aljoša govorijo o, presenečenje, filmu The Suicide Squad oziroma Odred odpisanih: Nova misija oziroma Tisti Odred odpisanih. Igor prizna, da je velik oboževalec Jamesa Gunna, pogledal je celo en oduren omnibus z njim, všeč mu je, da od Gunna lahko pričakuješ, da te poskuša šokirati, sicer pa zelo vljudno agitira za Ayerjev rez; Mito ne more nehati z "nom nom", zdi se mu, da je film v DCEU prinesel fokus, se pa po njegovem niti ne pretvarja, da gre v neke posebne globine; Aljoša poudarja, da Gunn odlično in ekonomično karakterizira svoje like, zdelo se mu je sicer, da gre za dve zgodbi v enem, predvsem pa je film zanj epitom poletnega filma. Govorijo še o koprofiliji, kurjenju ptičev, montaži, davnlovdanju v ZDA in o jezi Pelida Ahila. Citat epizode: »Sebastijan Cavazza Pizza Palaca.«
Podcast: Download (Duration: 1:35:13 — 43.8MB)
Naroči se:
O.B.O.D. je na Twitterju, na Facebooku in Instagramu. Tam nam lahko težite, sugerirate, čestitate in pozdravljate.
NUCNIK:
The Suicide Squad na imdb.
GLEDALI SO ŠE, BRALI SO, IGRALI SO TUDI:
Igor je žiriral na Festivalu kratkega filma FeKK, pogledal je miniserijo Beli lotus (HBO, 2021), film Beckett (Netflix, 2021) in animacijo Luca (2021) ter prebral knjigi Once Upon a Time … In Hollywood Quentina Tarantina in Horrorstör Gradyja Hendrixa.
Mito je pogledal film Hocus Pocus (1993), zadnjo sezono Rick and Morty (2013-), novo sezono Miracle Workers (2019-); bere pa 1984 Georgea Orwella.
Aljoša je pogledal filme Fear Street: 1994, 1978, 1666 (Netflix, 2021), Werewolves Within (2021), Wrath of Man (2021), Gunpowder Milkshake (Netflix, 2021), In the Mouth of Madness (1994); trilogijo John Wick, Pig (2021), Logan (2017), Palm Springs (2020), Spider-Man 1-3 (2002-7) dokumentarec Millennium After the Millennium (2019); serije: 1. sezono Loki, 2. sezono Doom Patrol, 5. sezono Better Call Saul, 1. sezono Preacher, 2. sezono The Alienist; 1-5 sezon The Seven Deadly Sins (Netflix, 2014-2021).
STAR TREK KOTIČEK:
TNG: Gambit, Part I in II (S07E04-05)
PRIBOLJŠKI:
Nathan Fillion Civilian Pavilion.
P.S.
Za džingl uporabljamo izsek iz tegale komada.